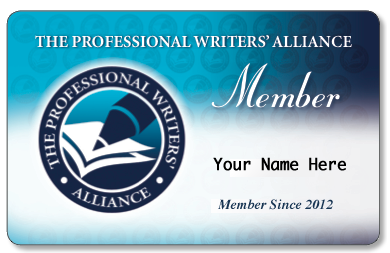 The Most Important Identification Card Any Copywriter Can Carry:
Here's How to Get Yours … The Many Benefits This Card Entitles You to … And the Special Gift We'll Rush to You That Can Impact Your Writing Immediately …
Best of All, Everything You'll Get Through This Unique Opportunity … Needn't Cost You One Red Penny!
Dear Reader,
I'm not sure how to say this in a "kind" way …
But if you're not carrying the card shown above, you're working at a distinct disadvantage to other writers in your field.
That's because writers who hold this card are members of quite an extraordinary alliance … with access to a treasure trove of resources and contacts no one else has.
It's an alliance that was started to meet a growing need for a professional organization dedicated exclusively to working and aspiring writers specializing in the direct-response industry.
And in the 16 months since it opened its doors to new members, it's become quite a large and influential group, whose members include some of the most prominent, successful players in our industry: copywriters, marketers, publishers, designers, and the like.
If you're not a member yet, there has never been a better time to sign on.
We've just completed extensive upgrades to the Professional Writers' Alliance Website and Resource Center – and added dozens of exciting new benefits … many of which I'll outline for you in a minute.
In fact, I'll guarantee you won't find a resource with more current or more useful content geared specifically to direct response copywriters anywhere…
Sign up here to get an exclusive look at the Professional Writers' Alliance Notes and News where you'll learn:
How to get an instant stamp of credibility as a professional writer.
Why you don't have to get up at 5 a.m. to be successful.
How you can cut down on writer's block, or eliminate it all together.
Eight ways to impress a client.
Why NOW is the perfect time to be starting as a copywriter.
and a whole lot more.
Plus, you'll get our free newsletter, filled with expert advice and "behind-the-scenes" lessons from the Professional Writers' Alliance:
We respect your email privacy. We'll never sell, rent, or trade your email address.