New Report Reveals Copywriting Rates for 75 Projects — and Much More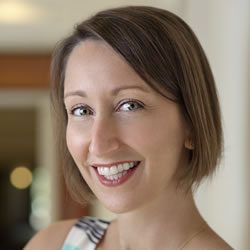 By Rebecca Matter for Professional Writers' Alliance
Each year, AWAI (American Writers & Artists Inc.)* publishes its copywriting "State of the Industry Report: Copywriting Pricing Guide."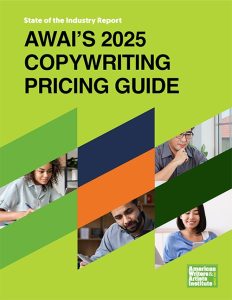 If you're a freelance copywriter, this is a terrific tool for you because it reveals the most popular types of projects marketers are using today… and all of these projects need copy.
Plus, it lists copywriting rates for 75 different projects — 
so it's basically a menu for you to use in creating your own fee schedule or rate sheet for the services you offer.
You'll never have to get stuck on pricing a project proposal. It's all right here for you.
We don't know of any other resource of this kind, specifically for copywriters and their clients… so here at PWA, we're delighted to explain why this report will become your best friend if you're a copywriter.
First, you'll find out why freelance writing jobs are plentiful.
Right now, millions of marketers are scrambling to get more attention, search engine traffic, and sales in the cluttered marketing world.
This report digs deep into how they're planning to spend more and more on different marketing approaches.
For instance, the report notes that 72% of B2B marketers are creating more content than they did one year ago.
72% more content!
And it's an ongoing effort.
Companies can't start a blog or newsletter, and then just stop.
Each week, each month, there's a need to publish more and more terrific content.
And who's going to write all that content? You, of course.
Today, copywriters are finding opportunities to help companies reach more prospects and customers through compelling stories, the best how-to tips, clear demonstrations, powerful case studies, free reports, benefit-focused emails, and other content across a wide variety of channels.
It's a massive opportunity for you. More than any other time in the field of copywriting.
Second, it points out that marketers are struggling to find skilled copywriters.
From Content Marketing Institute's "B2B 2016 Benchmarks, Budgets, and Trends — North America:"
"Sixty percent of B2B marketers list producing engaging content as a top challenge… 57% struggle with producing content consistently… and 35% cite producing a variety of content as a top challenge. These are all problems a skilled copywriter can help solve."
When you think about it, you'll be solving a serious gap in the marketplace.
Take a look at the chart below, showing the top content marketing tactics B2C (Business-to-Consumer) companies are using.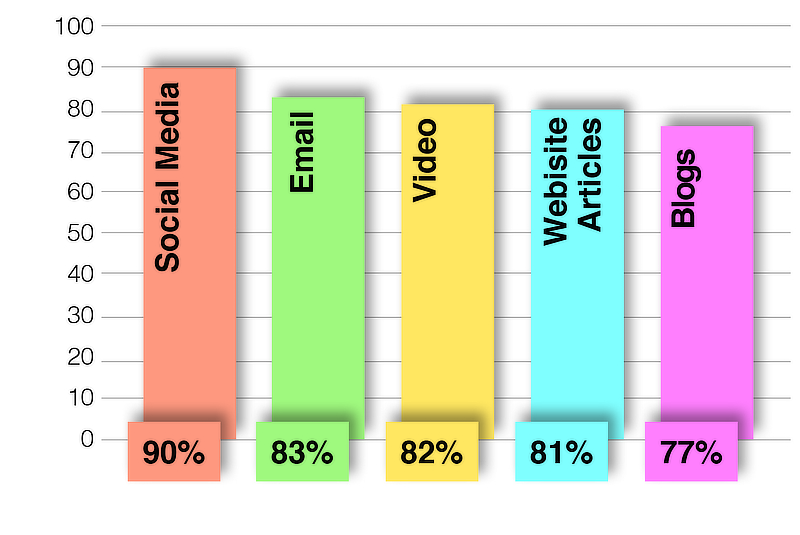 Of these five types of content marketing tactics, they all need good content written by skilled copywriters.
The content needs to stand out, attract attention, tell prospects something new, solve a need, and drive links or sales.
That's a tall order for many companies. They simply don't have someone with the skills to do this work.
That's where you come in as the hero who saves the day.
Third, it shows you which content marketing approaches have the potential to make a huge difference to companies.
When companies are trying to decide which approaches to take, you can help them by pointing out this information in the report.
"Content types that B2B (Business-to-Business) buyers use when making a purchasing decision:"
White Papers (82%)
Webinars (78%)
Case Studies (73%)
E-books (67%)
Blog Posts (66%)
Infographics (66%)
Third-party Reports (62%)
Video (47%)
Interactive Presentations (36%)
A-ha! Now you can advise clients on trying these different approaches.
This gives you a higher value with them. AND, all of these projects need content written by a skilled copywriter.
Exciting, right?
Let's look at a couple more ways this State of the Industry Report can help you.
Fourth, it shows that LONGER copy is working more effectively now.  
Here's another chart from the report, showing the most effective content marketing tactics.
Now, if you match up these channels with the content it takes to make them work… you're looking at a LOT of content!
Here's a really cool set of statistics that make this point.
"HubSpot collected statistics within the past several months, including these fascinating findings on content length and effectiveness: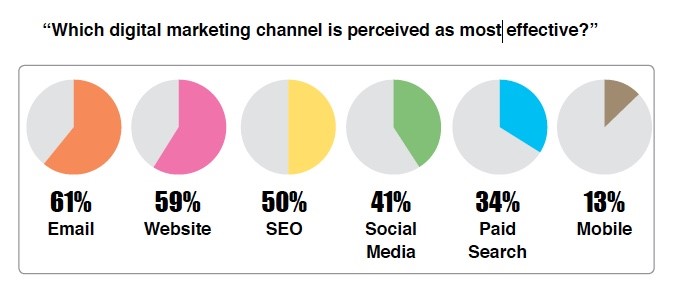 "The average content length for a web page that ranks in the top 10 results for any keyword on Google has at least 2,000 words. The higher up you go on the search listings page, the more content each web page has."
"If a post is greater than 1,500 words, on average it receives 68.1% more tweets and 22.6% more Facebook Likes than a post that is under 1,500 words."
Imagine that. Content should be at least 1,500-2,000 words PER PIECE to rank higher in Google and get more tweets and Likes.
Now, the power of content can't be just about length. It needs to be filled with quality. Amazing, informative, useful, unique, and solution-based quality.
Who has the ability to write all this high-quality content? You do, of course.
Finally, when clients ask about your copywriting rates — you can answer with confidence.
Imagine never having to hang up the phone in a panic, thinking, "I have no idea what to charge!"
This report has solved this dilemma for you, once and for all, because it includes fee ranges for just about every type of project you'll encounter.
It includes web pages, emails, and other online projects, as well as direct mail, print ad, trade show materials, and other forms of print projects.
Here's a sneak peek at what it includes: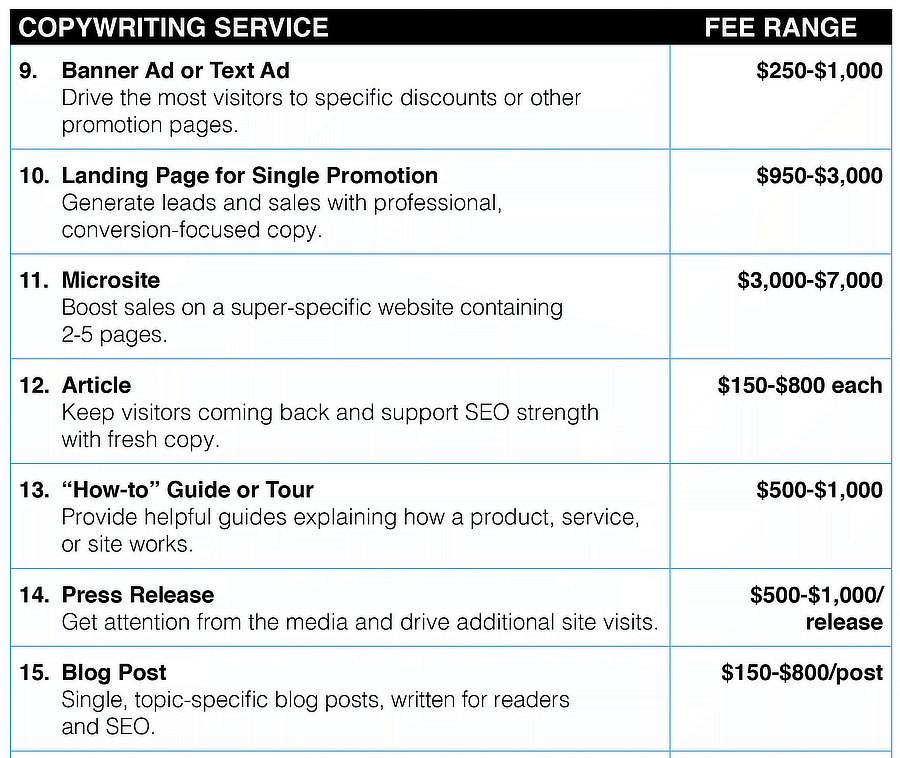 So, how can you make the most of this information to support your freelance copywriting business?
Here are 5 ways to use the information in this copywriting State of the Industry Report:
1. Create a fee schedule (also called a rate sheet) for your freelance copywriting business.
You don't have to make it public or post it on your website. In fact, we don't advise that anyway, because you don't want to have clients who only choose copywriters by price.
Instead, have your fee schedule in your business toolbox so it's ready for two main purposes:
When you're preparing a proposal
Having a fee schedule eliminates one of the biggest hurdles most copywriters face — pricing.
Now, any time a client asks for a proposal, you can pull out your fee schedule and plug in the rates. Simple!
When clients flat-out need to know what you charge
Some clients have budgets they have to adhere to, and may even need to show your rates to colleagues in their company.
But if you've done a good job of presenting your value to the client, this shouldn't worry you. You'll actually be giving clients what they want.
2. Determine the copywriting services you'd like to offer.
If you're still wondering which copywriting services clients need the most — this report can help.
You'll see that web pages, blogging, social media, and other projects top the list with all types of clients… and in B2B, white papers, case studies, and video scripts are important, too.
Now you know what to choose from!
3. Help freelance writing clients find YOU.
On your website, LinkedIn profile, and other places where you're marketing yourself, explain that you offer copywriting for these in-demand tactics. You're solving a big gap for clients.
And even better, choose a niche industry as your focus, so you can speak directly to prospects in that field.
4. Guide overwhelmed clients.
You may be surprised to know that many clients aren't sure which tactics to use, or how to choose. There are so many choices and "you must include this" messages out there — it's easy for clients to get overwhelmed, thinking they have to do it all.
You can show this report to your clients. There are several sections that speak to marketers on what's working the best, and how to work with professional copywriters who will help them.
5. Reinforce your value with clients.
In many ways, this report tees up your services as the solution they've been seeking!
It describes how a skilled copywriter can create high-quality content for all the different tactics companies should be posting these days to compete.
As you can see, this report offers you much more than just a fabulous list of copywriting rates.
*PWA (The Professional Writers' Alliance is brought to you by AWAI (American Writers & Artists Inc.)
REBECCA MATTER, President of AWAI, is an experienced direct-response marketer in the publishing industry, with the mission of helping writers earn a great living. Learn more about her.