As a Copywriter, Success Doesn't Happen By Accident
Let PWA (Professional Writers' Alliance) help you achieve success — faster — by showing you proven ways to hone your copywriting skills and run your business more effectively.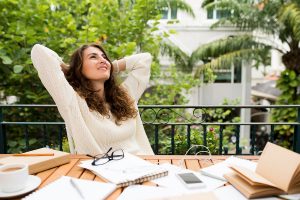 Welcome to your ultimate copywriting career community. This is where you'll get the tools, tips, and exclusive insights for finding well-paid copywriting work and career satisfaction. Created by AWAI (American Writer's and Artists, Inc.), PWA gives you:
New ideas — from working copywriters — on how to boost your mindset, motivation, and momentum toward your goals. Each month, PWA News & Notes is packed with practical tips from guest writers, "How I did landed my client"-type interviews, and other business strategies and prompts to achieve your dreams.
The kind of warm, supportive, and resourceful community you need to grow your copywriting career from anywhere in the world … fellow writers like these active members.
Monthly bonus points to use toward discounts on copywriting and business-building programs and events. Plus, you'll have direct access to clients who need you, through our jobs board.
In 2010, a group of well-connected A-List writers — including a number of AWAI experts — looked back on the key ingredients of their own copywriter success stories.
They realized the one thing that made a copywriting career sustainable was this: a supportive community where they could swap stories, share advice and tools, refer business, and support each other.
This particular group had been meeting face-to-face for years, thanks to a shared copywriter training course and a mentor who encouraged them.
There was no question the bonds they'd formed had helped them – individually and collectively – to reach the highest levels of writing success.
Brand-name clients … millions of pieces mailed … speaking engagements … six-figure incomes … published books … even modest celebrity in certain circles.
So – in the spirit of paying it forward – how could they take the power of their small community and make it accessible to other writers?
The answer was a copywriter success community like no other… The Professional Writers' Alliance.
The express purpose of the group?
PWA is here to help you achieve success as a direct response copywriter by showing you how to become a copywriter. And, we'll connect you with the kind of warm, supportive, and resourceful community you need to grow your copywriting career from anywhere in the world.
A bold concept, yes. But one that's already transformed the lives of hundreds of up-and-coming writers.
With PWA you can count on hearing from a variety of working, well-paid copywriters, with a professional at the helm.
The Professional Writers' Alliance - A Copywriter's Success Community
The Professional Writers' Alliance (PWA) was formed by AWAI (American Writers & Artists Inc.) to meet a growing need for a professional organization dedicated exclusively to working and aspiring writers specializing in the direct-response industry.
Its founders, Katie Yeakle and Rebecca Matter, have been working since 1997 to help copywriters succeed in not only their professional writing skills but in building thriving freelance businesses.
Since it opened its doors to new members in 2010, PWA has become the place for members of this growing writing community to …
Hone business skills and learn the newest copywriter's success techniques from the industry's top experts …
Build up a professional network by connecting with fellow writers …
Create a "Rolodex" of companies, publishers, and marketers always in need of new copywriters with fresh ideas …
Learn about copy and business approaches that are working in the marketplace …
Know what companies, marketers, and publishers are hiring freelance writers and marketers …
Get tips, insights, and 'industry wisdom' from A-level copywriters …
Follow real marketing projects as they move from the "idea" stage to the final draft …
Learn about niche and high profile freelance opportunities around the world …
Gain immediate credibility as a direct-response industry professional by displaying the Professional Writers' Alliance membership seal in all your marketing materials and correspondence …
See special deals, discounts, offers, and invitations exclusively for PWA members …
Today more than ever, The Professional Writers' Alliance is committed to serving professional writers in the direct response industry. 
Informing you about important changes happening within the industry …
Educating you about new and better techniques for doing business …
Championing your success.
If you're serious about growing your copywriting business and you'd love to have a supportive community at your side —
Meet Jen Adams, successful copywriter
and PWA's Editorial Director. 
Jen credits the writer's life she's created for herself with allowing her to indulge her passion for travel – she's worked as a copywriter in the US, Europe, and South America with an equally global group of clients – and still enjoys a career that grows more profitable every year.
As she's built her career, Jen's worked on every kind of content writing and copywriting project imaginable. She's been an in-house writer, a freelancer, and an ad agency writer under contract. Her travels have also put her face-to-face with more tax, billing, client management, and project management issues than most writers see in a lifetime, giving her a unique perspective on the business side of the copywriter's life.
As Editorial Director of PWA, Jen regularly highlights the many business-building options, tools, and collaborative support systems available to writers across the globe. She firmly believes YOU CAN create a successful writer's life on your own terms, from anywhere at any age, by making smart use of the many resources available to you – starting with what you'll find here, as a part of PWA!
Advance your copywriting career by leaps and bounds – get the proven power of PWA on your side.
If what we're about sounds like something you'd like in your writing life… and if you'd like to stop hoping for a "lucky break" or "happy accident" to launch your writing career …
Take the first step now, and use the button below to join The Professional Writer's Alliance today.