Land Better Freelance Writing Jobs with These 7 Online Essentials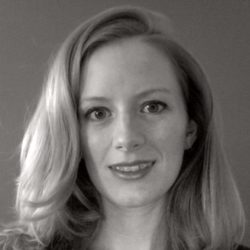 By Christina Gillick, Guest Writer for PWA (Professional Writers' Alliance)
This is edited/updated from a series originally posted on PWA in 2015.
As a professional writer, you probably already know you need a website.
This is especially true if you want to acquire clients via the Internet or write for web clients.
But, did you know there's more to creating a powerful, client-magnet online presence than just your website?
It's true! And, the more you invest in your online presence, the more clients you'll attract.
Your online presence is all about building relationships with — and being easily found by — potential clients. A successful online presence equals more projects and more money in your pocket…
But, you might be asking, "Where should I start?"
To land better-paying freelance writing jobs online… start with these 7 essential components of a strong web presence.
Yes, it all starts with a great website.
1. Your hub (your freelance copywriting website)
As a professional writer looking to land freelance writing jobs online, your hub — or website — is the place where you should focus your efforts.
It's like your home on the Internet. A place where potential clients and other writers can find and contact you, learn more about your services, and view samples of your work.
In fact, if you don't have samples, a professional website is even more important because your website itself will serve as a sample of your work. A professional freelance website can be effective with just a few pages: Home, About Me, Services, FAQs, and Contact.
If you haven't launched your own professional freelance website, here are three reasons you should as soon as possible:
Building a professional website that tells the world you're a writer will make you feel like a professional writer. In fact, launching my own professional website was the thing that gave me the confidence to attract clients, work on paying projects, and finally quit my full-time job to become a freelance writer.
A professional website is a great way to practice your writing. Plus, as mentioned earlier, your website is a great example of what you're capable of producing for clients. In fact, most clients won't ask for writing samples after seeing a professional freelance website.
Your hub — or website — makes marketing your services easier. Not only does it give you a place to focus your online efforts, but when completed, will also attract paying clients. This makes prospecting easier because clients are coming to you. You're no longer forced to rely on chasing potential clients for work.
Truly, if you're operating without a website, you're losing a lot of potential business and marketing harder than you need to.
For instance, if you're engaging in social media marketing without a website, you're wasting much of your effort. Adding a website will make your social media efforts more effective by giving interested clients a place to learn about your services and hire you.
If you're reading this and don't yet have your own freelance website, I suggest making that your number one priority. If you're not sure where to start, here's a great place.
2. Traffic (bringing potential freelance writing clients to your site!)
The next thing you need for an effective online presence is traffic or "website visitors." Basically, it's all the people who come to your website as a result of your marketing efforts.
You might also explain traffic as, "potential clients who visit your website after being exposed to your message."
Here are three ways to attract traffic — or more visitors — to your hub:
SEO (Search Engine Optimization)
To make sure we're all on the same page, let's define SEO a bit… SEO stands for Search Engine Optimization.
The first part of that, a search engine, is a tool that helps a person find what they're looking for online. You've likely used Google, Yahoo, or Bing at some point… those are the most popular search engines.
To make them work, you type something (known as a keyword) into one of the search engines. They then return a list of recommended websites. These websites are known as "search engine results."
SEO is the process of optimizing or tweaking a website so it appears higher in those results… increasing the website's exposure to more potential customers.
For a professional writer website, your keywords are likely to include the words, "writer" and "freelancer" or some combination of those words and your niche. Here are a few keyword examples for a general writer:

Freelance writer
Professional copywriter
Web writer for hire

SUPER IMPORTANT: If you have a niche, your keywords should include it. For instance, if your niche is health, you might use the keywords, "health copywriter for hire." Trust me, potential clients search for copywriters who have some experience in their niche market… such as "health copywriter."
Social Media
Another popular way to generate traffic — or more visitors — to your website is by integrating social media. While you're likely familiar with popular social media networks, like Facebook, Twitter, and LinkedIn, you might not realize their potential for marketing your services…
Just a few minutes per day sharing your own content and content from others will attract potential clients back to your website.
PPC (or Pay-Per-Click) Advertising
While not an option for all, PPC advertising is a very effective way to direct potential clients to you at the exact moment they're looking for your services.
PPC advertising is a form of advertising online within search engines. With PPC, advertisers pay a fee only when their ad is clicked. When a visitor clicks a PPC ad, they are taken to a specific website or landing page where the advertiser can provide more information and ask for an action.
A popular PPC advertising service that you've likely heard of is Google AdWords (not to be confused with Google AdSense). You can learn more about PPC advertising here.
Of course, these three options don't begin to cover all the ways you can generate traffic to your website. Other ways include guest blogging, link building, and even offline methods like business cards and public speaking.
If you're beginning to get overwhelmed with all the options for traffic generation, remember, you don't have to do everything at once. Instead, start creating your effective online presence with just one or two types of traffic. Once you've mastered those, you can add in other methods for attracting traffic.
If you're just getting started, I'd recommend focusing on SEO. Optimize your hub — your website — first.
3. An opt-in (a reason for target clients to give you their email addresses)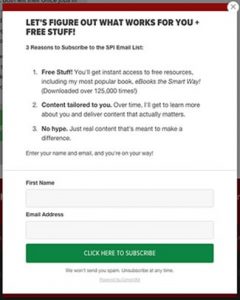 Next up on our list of essential pieces for a strong online presence is an opt-in. As a professional writer who likely spends a lot of time online, you've probably come across many free offers… a free newsletter, free report, or free podcast…
But, there's a catch. To get the free item (also known as a bait piece or lead magnet), the website wants something in return — usually your email address. The form where you enter your email address and the bait piece you receive is all part of the "opt-in."
It's important to remember the main goal of your opt-in, which is to get the contact information of potential clients so you can follow up later.
Here's an example opt-in form from SmartPassiveIncome.com:
As you can see, the form offers "free stuff" if you sign up.
It also makes a point to assure the reader they won't be spammed if they sign up and that they can unsubscribe at any time.
4. A newsletter (your chance to wow potential clients each month)
A newsletter or e-newsletter (also called email newsletter or e-zine) is the same thing — an email from you to your target audience. It's meant to follow up with those who expressed interest in your services by opting-in.
E-newsletters are basically short, concise "articles in email form" that entertain and engage readers.
Once your professional website is set up and collecting leads, you should aim to send your subscribers an email newsletter on a regular basis — at least monthly, but weekly if you have the time and need the clients…
E-newsletters are effective because they position you, the writer, as the expert. This increases your sales because people buy more from experts they know, like, and trust.
They are also ideal lead-nurturing vehicles. They bring back previous clients and build relationships with new ones.
As I mentioned earlier, an e-newsletter should be sent at least once per month. Every issue is an opportunity to reach out to potential clients, remind them of your services, and secure new clients.
Plus, once you have your own e-newsletter, you can use it as a sample of your e-newsletter services.
Also, don't forget that e-newsletters are short projects… usually just 700-1,000 words. Surely, as a professional writer, you can dedicate a few hours every month to write just 700-1,000 words…
Then, as a bonus, the content you write for your e-newsletter can be repurposed for your social media updates, blog posts, and more.
5. Your main message (what do you offer… and to whom?)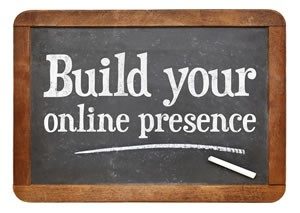 Now, I mentioned that the most important thing you can do for your online presence is build your own hub — or professional freelance website.
This is the place where you'll direct all of your connections. For example, let's say you're marketing yourself on Twitter and a potential client asks about your services.
Rather than have a long conversation on Twitter, simply send them to your website. Then, your Twitter lead can learn about your services, opt-in to receive your bait piece, and hopefully become a paying client!
It sounds simple, but there are five things to keep in mind as you craft a strong message for your online presence:
Before you write your website, set up social media profiles to drive traffic, or create your "bait"/opt-in piece, figure out your message.
A strong message should:
Be instantly understood by your target market.
Capture the attention of your target market.
Prompt your target market to visit your website, learn more about your services, and ultimately hire you.
Ask yourself, "What one thing do you want your potential clients to know about you?"
Are you affordable? Easy to work with? Focused on getting results? Is your top priority to give your clients a return on their investment?
Answering these questions will help you create a marketing message true to you and your business.
Once you figure out what your message will be, it's time to write it out. This is a lot like writing an elevator speech, which you can learn more about here .
As you craft your message, keep in mind that many social networks — and other places where you'll use your message — have limits on length.
Twitter, for instance, currently only allows 160 characters in your bio.
However, once you get someone's attention — and they click through to your website — you can share a much longer message. (Just be sure to keep it consistent.)
That being said, here are the most important things to include in your message:
Your job title: the service you offer
How you can help potential clients
A call-to-action that prompts them to visit your freelance website
Here's a sample message:
I'm a freelance writer for the wine industry... helping online wine stores reach more wine-loving customers. Get business-boosting advice at WineWriter.com.
To use that same message (and keep consistency) on your website, you might just expand on the points you've already made. For other social networks, try to keep your bio as similar as possible.
Don't forget your keywords.
An effective message includes your keywords, which we talked about as part of SEO. As a writer for hire in the wine industry, one keyphrase might be, "wine industry copywriter."
So, as you're writing your message, think about how you can incorporate your keywords. This is important because keywords — which are searchable via search engines and most social networks — will make it easier for potential clients to find you when they need you.
In our example above, you'll see many different keywords that someone might use to find a writer for the wine industry:
Freelance copywriter for the wine industry
Reach more wine-loving customers
Even the domain includes the keywords Wine Writer or Wine Copywriter
Keep your message consistent.
Not only does your message need to represent you and your services, but it should also be well written and consistent across your marketing channels.
Just imagine someone comes across one of your messages on their favorite social network. Let's say that's LinkedIn. They love your message and decide they have to know more about you! They go to your website, but the message is different, the language is directed at a different audience, and they're confused. Do you think they'll hire you?
Instead of causing confusion — and possibly losing paying projects — create a consistent marketing message and stick to it across all platforms including your website, any social profiles, bios, or anywhere else your message appears.
It's important to "be yourself" in your marketing messages because potential clients are more likely to contact someone they know, like, and trust.
Don't be afraid to share your personality. You're trying to build a relationship with potential clients so they'll hire you when they need a writer. Yes, you're a professional and want to be seen as one, but that doesn't mean being uptight or stuffy. If you're a funny person, add some humor.
Another (often overlooked) part of being yourself and creating an effective message is writing like you talk. As a professional writer, you've probably heard this advice many times, but do you follow it?
To effectively write like you talk, imagine your potential client is sitting with you. What would you say to them? If you're having trouble with this exercise, try this:
Sit down with a friend.
Explain what you do, whom you write for, and how you help clients.
Record and transcribe your conversation.
Clean up your transcription.
When you're finished, you'll have a message consistent to who you are, and one that sounds like you talk.
If you're finding this process difficult, don't worry. You're tackling one of the most difficult parts of your online presence. Luckily, when you're done, you'll have a strong marketing message that enhances your online presence.
Just remember, your entire online presence should reinforce your message. If you claim to provide results, share case studies from previous clients. If you say you're dedicated to consistently improving your craft, prove it with steady updates to your blog.
6. Plan your core marketing approaches for a strong online presence.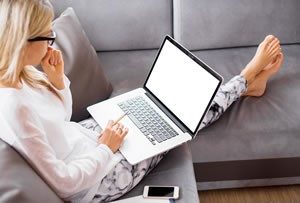 As a professional writer, we all know you must write. And, to get exposure for your writing, you must share it. This — in a nutshell — is known as content marketing.
Because the term content marketing is used so often, you've likely heard it… but, are you doing it?
If not, maybe you're overwhelmed thinking that content marketing is a huge undertaking. For some very large companies, this may be true. But, if you're just getting started as a professional writer, you might not realize how simple your content marketing plan can be…
In fact, an effective content marketing plan — one that makes your online presence stronger — can be completed with just four steps:
Add a blog to your professional website.
As a writer, your blog is the home for your content. It's where potential clients will come to learn more about you, read your content, and decide if they want to contact you or not.
Plus, because a blog provides fresh content for the search engines, it's an essential piece of your online strategy.
If you think blogging is too much work, remember, you don't need a ton of content. A small collection of well-crafted articles or blog posts aimed at your potential clients — and solutions to their biggest problems — will be very effective. You should make a point to update it on a regular basis — whether that's once a month or once a week.
Most of the content you'll write for your own blog doesn't have to be fancy or sell anything. In fact, for the most part, your blog posts should be informative, engaging, and entertaining.
Don't worry about trying to sell your services. The point of a blog is to share useful information so potential clients will see that (a) you know what you're talking about and (b) you can write well.
As an example, let's say you love alternative health and you're passionate about shutting down big pharma… you could write something like, "5 Things Big Pharma Doesn't Want You to Know."
If you're a copywriter for the alternative health industry, that's the kind of content a potential client would read and find useful.
Additionally, a potential client in the alternative healthcare industry will need the same type of content for their own marketing purposes. When they read it on your website, they'll know you can write something similar for them.
Your blog content doesn't have to be limited to the written word. Other effective pieces of content are videos, tutorials, and worksheets.
Once you have content, the rest of "content marketing" is all about getting views and traffic. Here's how…
Let's say you launch your blog and spend a few hours writing content for it… then, you sit back and wait… what happens?
Probably not what you hoped for.
Building a blog isn't a recipe for instant traffic. If you want your content to generate traffic — and ultimately paying clients — you must share it.
Sharing your content is one of the most important aspects of an effective online strategy. The more distribution your posts have, the more likely your blogs will be in front of the people most likely to hire you.
Sharing your content will help you generate more traffic to your freelance website.
Social media is one of the most popular ways to share your content, and it's fairly simple. After you finish your blog post, write a short description of it.
Be sure to include your keywords and a compelling reason why someone should click and read your content.
For example, a social media update for this article might look something like this:
Are you missing the most essential piece of your online presence? Go here to find out: <your link>
Then, post your update on your social media network (or networks). Over time, you'll gain more and more followers and the results from each post will improve.
There are a lot of people producing content to market their services, but you can set yourself apart by being present.
This means that after you've added a blog to your website, created content, and shared that content, don't disappear!
Instead, make sure you get the most out of every post you write by replying to any comments, responding to questions, and thanking others for re-sharing your content.
A strong blog post can bring you many new clients if you take the time to share it and follow up with those who respond.
Bonus tip: If you're running low on content, consider repurposing posts you've already written. Some ideas for repurposing — and getting better results from each piece you publish — are:
Break posts into smaller tip-style updates (with a link back to the original post).
Create visuals such as infographics, which are highly sharable to enhance your content.
Turn your written content into videos or podcasts to provide value to your visitors who prefer to watch or listen to content.
7. Manage your online presence in just minutes a day.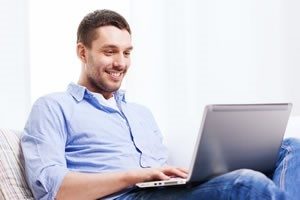 There are two main keys to continually bringing in more and more potential clients.
The first is making sure your entire online presence is consistent.
Your website, social media profiles, and anywhere else you appear online should have the same message and personality.
The second is timing: how often you update your website, post and participate on social media networks, and check in to reply to potential clients.
This process can be time-consuming and, as a result, many writers fall into the trap of marketing just until they get enough clients. Then, they stop marketing because they're busy with client work. The problem with this is, once you finish the current client work, you'll have to scramble to find new clients.
The best solution is to market yourself on a regular basis, but limit the time you spend doing it. Here's how to keep your online presence strong — and growing — in just 15 minutes each day…
Keep your online presence small (at first).
To build an online presence you can manage, you should limit it to just a few strategies — at least until you master them.
Remember, you can get started with just one method of traffic. SEO is a great place to start because it brings potential clients to your website when they're already searching for the services you offer. After SEO, I would use social media.
Speaking of social media, it's a great way to find potential clients and engage with them. But, that doesn't mean you need to be on every social network. Instead choose just one or two to begin with. Once you've mastered those, you can add others to the mix.
Start a list of people you want to reach with your online presence.
Ideally, your online presence will bring new people (that you've never met) back to your website. But, to start, pick a small group of people you already know. Here are some ideas of whom to choose:
People you already know, preferably potential clients and other writers who might refer overflow business to you. Keep in mind, you're not trying to reach family and friends — unless your family and friends are likely to become paying clients.
People you'd like to meet. It's important to include both potential clients and other writers in this group. As you begin to share on social media, you'll want to re-share posts from other writers and network with them… which will also raise your visibility to potential clients.
Once you have a list of people, begin to research them. You want to find their website, their social media links, and anything else that will help you reach out to them. You can keep track of each person, and their various online platforms, with a simple spreadsheet.
Tip: With many social networks, you can easily "follow" people. This makes it easy to quickly see what's going on with them. I recommend LinkedIn first, because it's where the professionals are gathered.
Each day, log into your social network. Look to see if anyone on your list has updated their status.
When you see an update from someone on your list, consider re-sharing their update. Not all updates will be relevant to you or your audience, but — if you have the right people on your list — many of their updates will be.
For the potential clients on your list, look for ways you can help them. This might include questions you can answer or compliments on their current projects.
If any of the people on your list have added new blog posts, take a moment to leave a relevant comment on the post.
The important thing to remember is the people on your list are real people, too. They will love that you're sharing their content, helping them find answers to their problems, and making their online presence even more effective by engaging.
And of course, by engaging with others, you're increasing your online reach and making your own online presence stronger.
Finally, don't forget to be yourself — and remain consistent — when reaching out to the people on your list.
If you don't have time to do this every day for everyone on your list, try breaking your list into groups and rotate through your list each week.
Add value to their online presence.
Link to the people on your list whenever possible, buy their products if you can, share their posts, promote them to your followers, and write positive reviews about them. These activities show you're reading their posts, liking them, and taking time out of your busy schedule to help them.
Remember, as you're helping others, you're also building your own online presence.
People who are connected with the people on your list will see your re-shares, comments, and the value you're adding. This is a great way to become known in your niche and get exposure you probably couldn't otherwise get.
Write a personal note or email every day.
Commenting on a potential client's blog and retweeting them will get you noticed over time, but a personal email or note is more likely to get an immediate response.
Once you have a conversation going, it's easier to build a relationship and eventually secure them as a paying client.
If you send one note or email every day, you could easily reach out to 20-30 potential clients per month. Assuming your website does a good job of selling your services, someone you reached out to is likely to hire you next time they need a writer.
When dealing with the people on your list, remember you want to add value to their lives, not annoy them. Keep in mind you're trying to build real relationships, which take time. Treat the people on your list the way you'd want to be treated.
While you can't expect someone to hire you immediately, building a strong Internet presence will get people to notice and interact with you.
Once that happens, any interactions you have online will strengthen your Internet presence.
As a result, you'll meet more potential clients, get more traffic to your website, and land more freelance writing jobs. All online!
Ready to jump in and improve your online presence? Be sure to leave a comment below to let us know about your message or other approaches.
PWA (Professional Writers' Alliance) is brought to you by AWAI (American Writers & Artists Inc.)
Christina Gillick is a web strategy consultant and conversion copywriter specializing in persuasive sales copy. She's a go-to-writer for AWAI (American Writers & Artists Inc.) and many other companies. Visit her website.